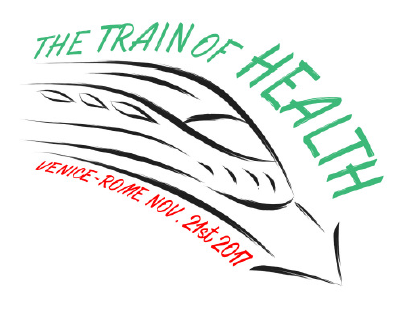 Min kära vän Clara Banderali, är en av dem som arrangerar the Train of Health. Det är ett inhyrt tåg för demonstranter som är emot tvångsvaccinering, som går mellan Venedig och Rom. Tåget anländer i Rom runt middagstid den 21 november. Denna dag är det stor demonstration i Rom, med anledning av tvångsvaccineringslagen som har gått igenom. Advokat Marcello Stanca har gjort en grupptalan mot lagen till Constitutional Court, och denna dag ska domstolen deklarera vad de har kommit fram till, det vill säga om lagen är laglig eller inte.
Clara var med och arrangerade Venedigdemonstrationen där jag var med och talade.
Nu behöver de lite hjälp för att gå i land med detta projekt. Nedan finns hennes brev
// Sara Boo, Ordförande NHF Sweden
Hello!
We are a group of parents from Venice. Some of us organized the demonstration for freedom of vaccination choice in Venice last September 16th.
We now have a new challenge: organizing THE TRAIN OF HEALTH !!!
It's a train that will be leaving from Venice and reaching Rome on November 21st. In fact, on November 21st our Constitutional Court will give the verdict about the Veneto Region's appeal against the Law n. 119 of July 31st 2017 that made 10 vaccines mandatory for 0-16 year-old schoolkids.
November 21st is a special date for Venice: we celebrate the "Madonna della Salute", "the Virgin Mary of Health", since in 1626 the Virgin Mary healed Venice from the plague.
So, here is THE TRAIN OF HEALTH, which is that of FREE VACCINATION and THERAPEUTIC CHOICE !!!!
It will be an "Event Train", a DEMONSTRATION….. "ON THE RAILS", with talks, film screenings, kid-activities, and a lot more during the time of the journey to Rome.
Renting a train, though, is pretty expensive… That is why we are asking for your help: we need funds in order to: allow parents to get on this train with their kids (kids don't pay), have guests, organize the activities on the train, rent equipments, pay the ticket to people who can't afford it, etc…
… FOR DONATING
1) If you wish to donate, you can do it through the following PayPal link:
paypal.me/iltrenodellasalute, managed by Susy Livieri, Mira, IT.
Reason: "Donation for The Train of Health, Venice – Rome 21/11/2017".
2) You can also purchase a certain number of round trip tickets € 65 each to allow people who can't afford the costs to participate. In this case you can donate with credit card through the following link: https://pagamenti.labtravelgroup.it/
Reason: "Purchase of n. … round trip tickets for The Train of Health, Venice – Rome 21/11/2017".
Thank you in advance for your trust and support
Best wishes,
THE TRAIN OF HEALTH Staff.
For info, booking and donations write to: trenosalute@gmail.com
(1288)